Best Robbinsdale MN Dentist | Brushing on your Gumline

Best Robbinsdale MN Dentist | Brushing on your Gumline
Most people are unaware that brushing along your gumline is actually one of the most important areas of the mouth to focus on. Did you know that healthy gum pockets are 1-3mm deep, which means that even in a completely healthy mouth there is at least 2-3mm of room for things like food/plaque/bacteria to hide. When the plaque and bacteria sit on your teeth and under your gums they can cause infection or gum disease. After the plaque sits on your tooth for 48 hours it begins to harden and bonds onto the tooth; which requires dental instruments to remove.
Best Robbinsdale MN Dentist | Recommended Tooth Brushing Steps for Gumline
This is why it is so important to be brushing twice a day and flossing at least once a day. We recommend light pressure with a 45* angle placing half the toothbrush on the gums and half on the tooth, work in circular motions because this allows the toothbrush bristles to get under your gums and loosen the plaque and bacteria. After brushing your teeth, it is very important to floss because your toothbrush can only reach so far into the gum pocket and the floss reaches all the way to the bottom which helps to ensure a proper cleaning. Here at Clear Lakes Dental we provide patient education and demonstrations to ensure that you understand how to have the best oral hygiene.
Best Robbinsdale MN Dentist | Clear Lakes Dental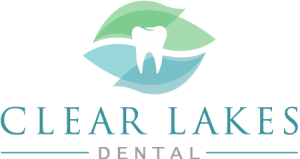 Clear Lakes Dental is your local dental clinic in St Paul MN / Robbinsdale MN with locations in Downtown St Paul (PHA Building), Concordia St Paul Building, Rice Street, and the Robbins Center in Robbinsdale. We are dedicated to providing our community with the best dental care services to enhance your overall oral health. Clear Lakes Dental works to provide a comforting environment for its patients to have peace of mind while in our care. Our goal is to help you achieve the cosmetic results you desire while providing the tools you need to maintain your oral health. We offer low-cost dental services in St Paul MN & Robbinsdale MN from restorative care to preventative care, and we accept a range of dental insurance options to cover all your dental health services!
Best Robbinsdale MN Dentist | Dental Care Services
Clear Lakes Dental offers a range of comprehensive dental care services to patients of all ages in the following dental services: Composite Restoration, Dental Bridges, Dental Crowns, Dentures, Emergency Dentist, Preventative Dentistry, Saturday & Sunday Dentist, and Teeth Extraction. Call us today at one of our St Paul/Robbinsdale MN locations or send us an email to schedule a consultation.
Best Robbinsdale MN Dentist | Emergency Dentist Service Locations
We provide affordable dental care and the best dentistry services in the following areas:
Robbinsdale | St Paul | West St Paul | North St Paul | South St Paul | Minneapolis | Maplewood | Roseville | Vadnais Heights | Little Canada | Shoreview | Eagan | Inver Grove Heights | Mendota | Mendota Heights | Woodbury | Oakdale | Falcon Heights | Lauderdale | Lilydale | St Anthony | Arden Hills | White Bear Lake | New Brighton