Is It Safe To Use Charcoal Toothpaste | Risks Of Using Charcoal Toothpaste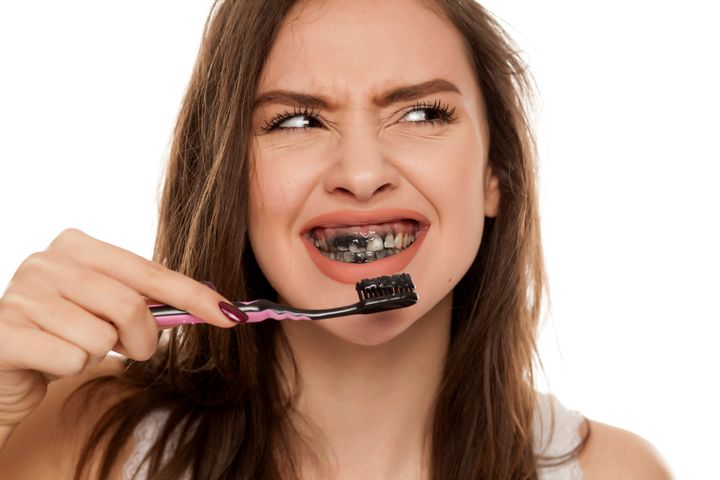 Charcoal toothpaste is becoming a new trend and popularity around the globe. With so many different options for whitening toothpastes these days people often begin to turn to new products that they believe are natural or have antimicrobial properties. In dentistry, we provide recommendations based on scientifically based claims, therefore it is our job to warn people on the risks of using charcoal based toothpastes.
Researchers have been continuously looking into studies involving charcoal toothpaste with the results showing many risks associated with these products. The first risk associated with these products is your risk for tooth decay. A majority of charcoal products do not contain fluoride, a remineralizing agent that helps prevent tooth decay and sensitivity. Next, these products may cause unexpected discoloration. Essentially these products have a high abrasity level, damaging the tooth enamel which is the top protective layer of the tooth. Once this layer is damaged it becomes roughened and more susceptible to staining along with decay. This can often happen over time as you are using these products. The teeth may initially appear to be whiter because the top layer of the enamel is being worn down, showing the layer of enamel beneath it but then is more susceptible to staining and cavities causing more damage to the tooth.
Overall, there are no research studies that prove the benefits of charcoal toothpaste and there are recent studies proving the damage that can be done when using these products. When looking for a toothpaste to use we recommend using a clinically proven toothpaste or one that has earned the American Dental Association's seal of acceptance.
Robbinsdale Dentist | Clear Lakes Dental
Clear Lakes Dental is your local dental clinic in St Paul MN with 2 locations in Downtown St Paul (PHA Building) and Concordia St. Paul Building; and 1 location in Robbinsdale MN. We are dedicated to providing our community with the best dental care services to enhance your overall oral health. Clear Lakes Dental works to provide a comforting environment for its patients to have peace of mind while in our care. Our goal is to help you achieve the cosmetic results you desire while providing the tools you need to maintain your oral health. We offer affordable dental services in St Paul and Robbinsdale MN from restorative care to preventative care, and we accept a range of dental insurance options to cover all your dental services!
Robbinsdale Dentist | Dental Care Services
Clear Lakes Dental offers a range of comprehensive dental care services to patients of all ages in the following dental services: Composite Restoration, Dental Bridges, Dental Crowns, Dentures, Emergency Dentist, Preventative Dentistry, Saturday Dentist, and Teeth Extraction. Call us today at one of our St Paul or Robbinsdale locations, or send us an email to schedule a consultation.
Robbinsdale Dentist | Emergency Dentist Service Locations
We provide affordable dental care and the best dentistry services in the following areas:
St Paul | West St Paul | North St Paul | South St Paul | Minneapolis | Maplewood | Roseville | Vadnais Heights | Little Canada | Shoreview | Eagan | Inver Grove Heights | Mendota | Mendota Heights | Woodbury | Oakdale | Falcon Heights | Lauderdale | Lilydale | St Anthony | Arden Hills | White Bear Lake | New Brighton | Robbinsdale