Cleaning Your Teeth When You Have Braces | Twin Cities Dentist
Cleaning Your Teeth When You Have Braces | Twin Cities Dentist
Caring for your teeth with braces can be challenging to do. Accomplishing good home care to prevent staining and tooth decay is extremely important while you have the obstacle of braces to work around. Understanding the best ways to care for your teeth is crucial so today I am going to talk about the best ways to care for your teeth while having braces along with some different options to do so.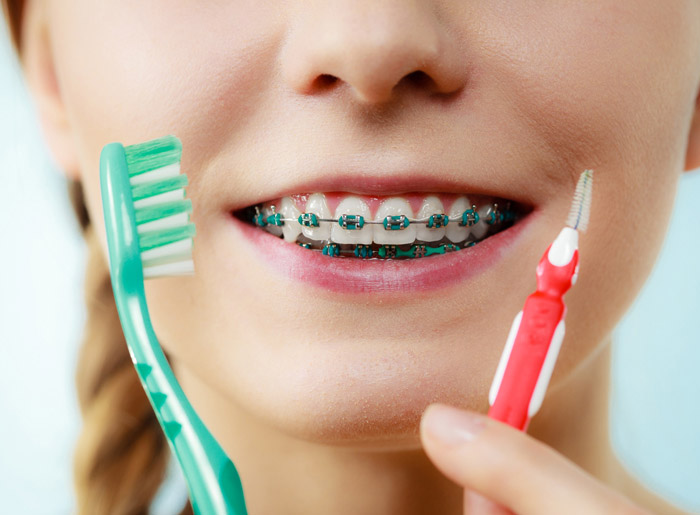 How to Clean Your Braces | Twin Cities Dentist
When brushing your teeth with braces you should be using the same technique you usually do, pointing your bristles at a 45 degree angle towards the gum line and moving in small circular motions both above and below the brackets. You also must remember to flip your toothbrush over so you can brush the tops of your brackets as it is an easy place for food and bacteria to build up on your braces. Brushing in-between the brackets is also very important. There is a special brush that is called a proxabrush that is a small brush designed to go between the brackets, removing the buildup to keep this area clean as well. As important as brushing is, we also must remember to be flossing because there are areas in the mouth that your toothbrush will not be able to reach. In order to get your floss between your teeth, you can use a floss threader to easily guide the floss under your brackets. If you do not want to use manual flossing you could also decide to use a waterpik. This is a device that uses pressurized water to floss your teeth and can be very beneficial to your oral health. Overall, braces can present a huge challenge when it comes to keeping your teeth clean but by using these techniques and different methods we can achieve a healthy mouth.
Twin Cities Dentist | Clear Lakes Dental
Clear Lakes Dental is your local dental clinic in St Paul MN with 2 locations in Downtown St Paul (PHA Building) and Concordia St. Paul Building; and 1 location in Robbinsdale MN. We are dedicated to providing our community with the best dental care services to enhance your overall oral health. Clear Lakes Dental works to provide a comforting environment for its patients to have peace of mind while in our care. Our goal is to help you achieve the cosmetic results you desire while providing the tools you need to maintain your oral health. We offer low-cost dental services in St Paul / Robbinsdale MN from restorative care to preventative care, and we accept a range of dental insurance options to cover all your dental health services!
Twin Cities Dentist | Dental Care Services
Clear Lakes Dental offers a range of comprehensive dental care services to patients of all ages in the following dental services: Composite Restoration, Dental Bridges, Dental Crowns, Dentures, Emergency Dentist, Preventative Dentistry, Saturday Dentist, and Teeth Extraction. Call us today at one of our St Paul MN or Robbinsdale locations or send us an email to schedule a consultation.
Twin Cities Dentist | Emergency Dentist Service Locations
We provide and service low-cost dental care and best dentistry in the following areas:
St Paul | West St Paul | North St Paul | South St Paul | Minneapolis | Maplewood | Roseville | Vadnais Heights | Little Canada | Shoreview | Eagan | Inver Grove Heights | Mendota | Mendota Heights | Woodbury | Oakdale | Falcon Heights | Lauderdale | Lilydale | St Anthony | Arden Hills | White Bear Lake | New Brighton | Robbinsdale