Dental Hygiene Essentials
Clear Lakes Dental offers
a
comprehensive
selection
of
Dental
Hygiene
Essential products
to
keep
your
teeth
and
g
ums
healthy
.
Shop
our
selection
of
top
–
rated
and
affordable
Dental
Hygiene Essentials
and
enjoy
the
benefits
of
a
healthier
smile. Visit one of our Clear Lakes Dental locations in East Saint Paul, Robbinsdale, Brooklyn Park, or Coon Rapids today to purchase our recommended products!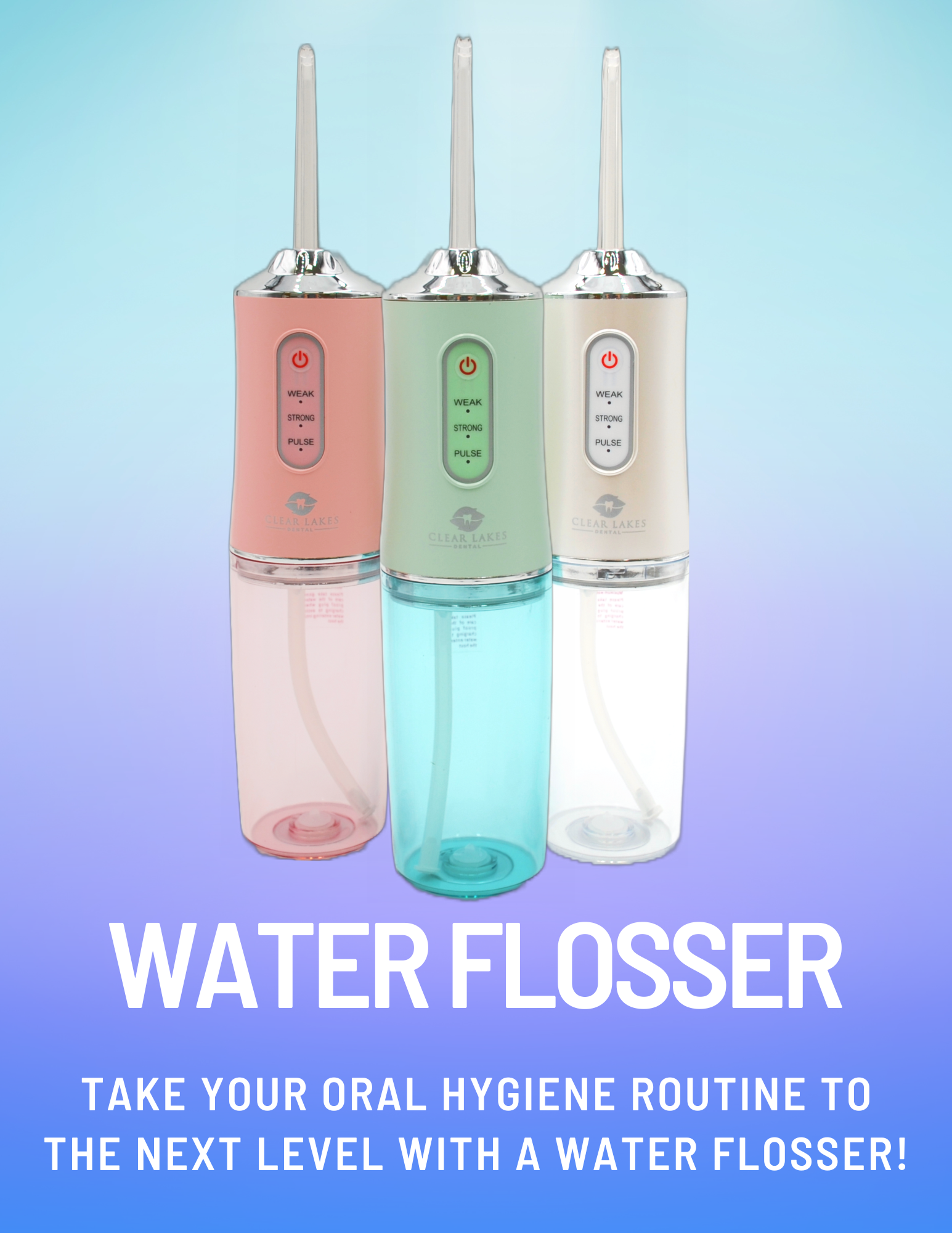 Features of the Product
Strong pulse water can clean up bacteria, dental stains, tartar, and food residues in all parts of the mouth
4 forehead nozzles to use for different dental cleaning
Portable & USB rechargable
3 unique colors to chose from!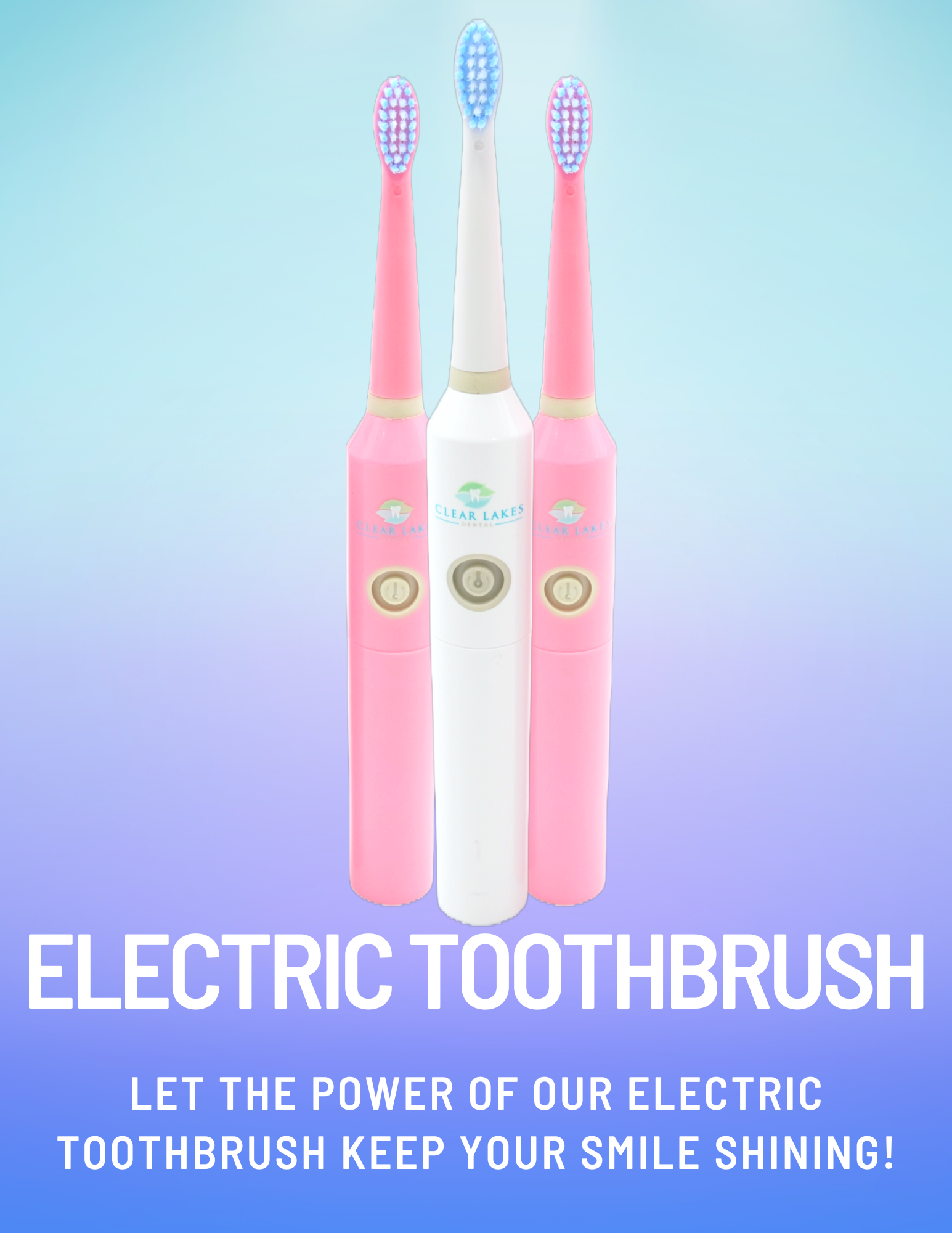 Upgrade Your Toothbrush Game
More Efficient Cleaning: Electric toothbrushes offer a higher number of brush strokes per minute, which means they can clean your teeth more thoroughly and effectively compared to manual brushing.
Time-Saving: The high-speed oscillations of an electric toothbrush allow you to clean your teeth in less time than it takes to brush them manually.
Easy to Use: The motorized brushing action of an electric toothbrush requires less effort and is more comfortable to use, especially for those with dexterity issues.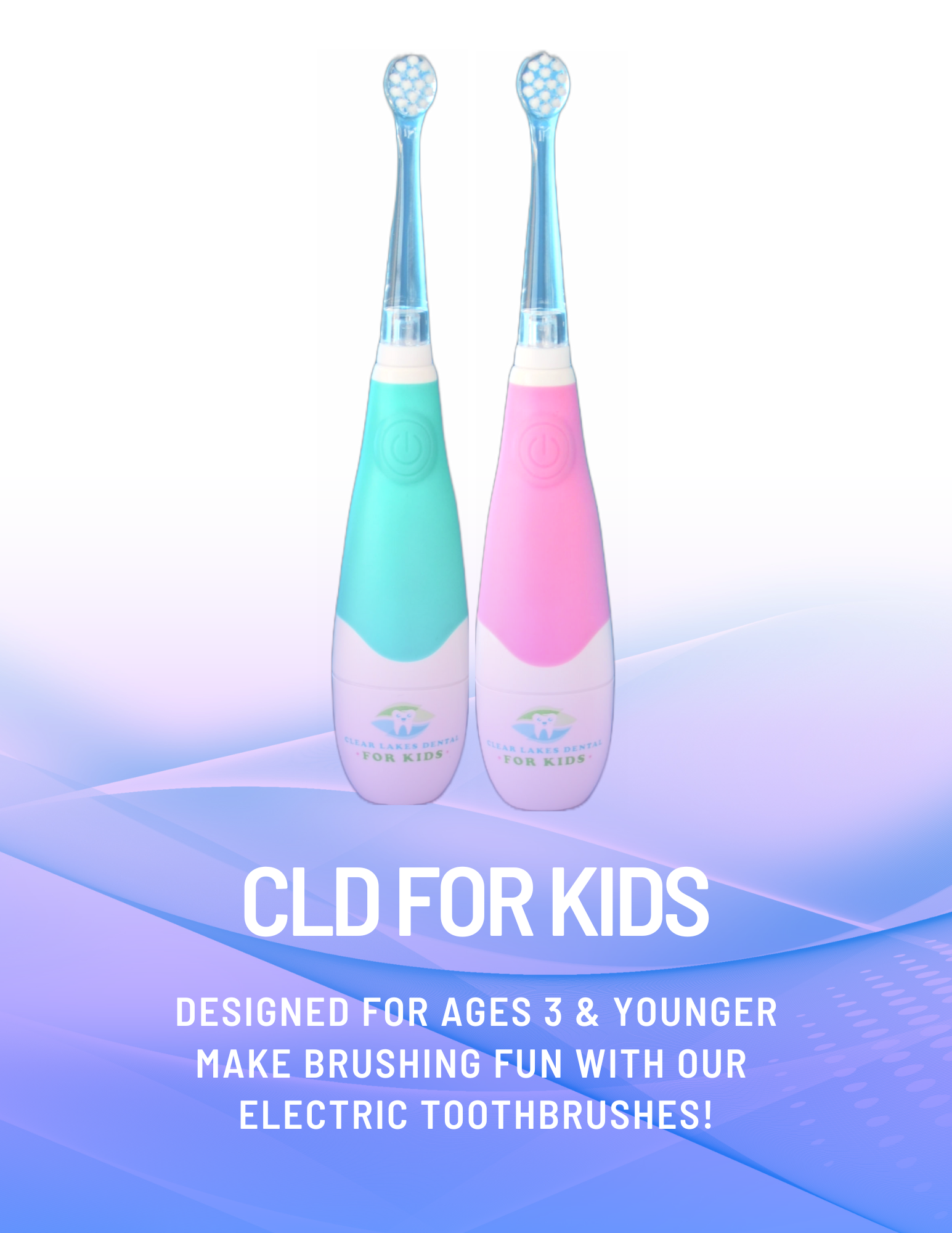 Make Brushing Fun and Effective for Your Little Ones!
Perfect for ages 3 and younger!
LED Light
​Brush head for babies (3-18 months)
​Brush head for toddlers (18-36 months)
​Dentist approved-​2 minute timer for optimal brushing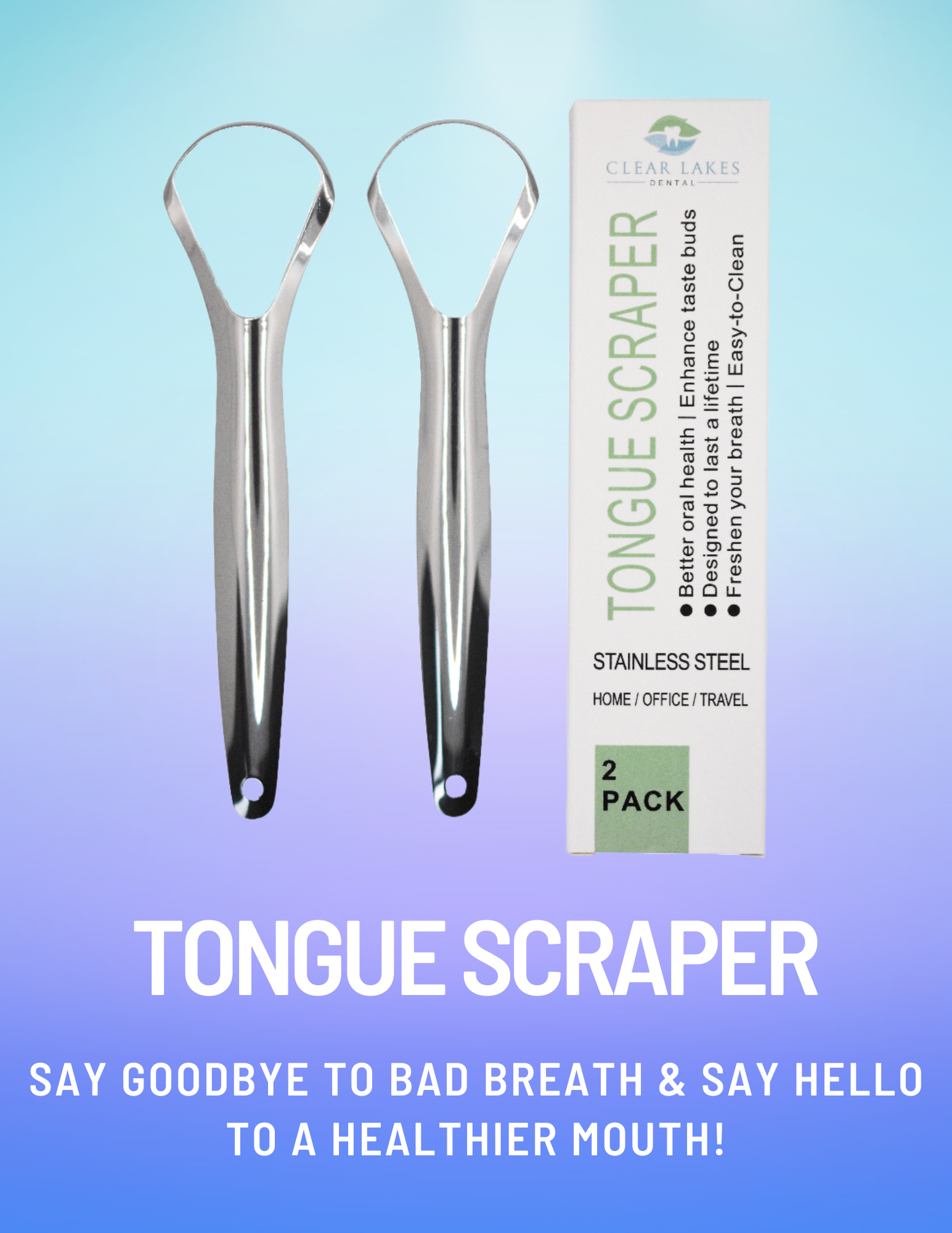 The Ultimate Guide to Tongue Scraping
Better Oral Health: Tongue scrapers combat bacteria and debris on your tongue, preventing bad breath and oral health issues.
Enhanced Taste Buds: A coated tongue can dull taste buds. Scraping removes it, enhancing your sense of taste and food enjoyment.
​Designed to Last a Lifetime: Tongue scrapers are typically made from high-quality materials that are designed to last a lifetime.
Easy-To-Clean: Tongue scrapers are low-maintenance; rinse with water, use soap or toothpaste, and store in a dry place.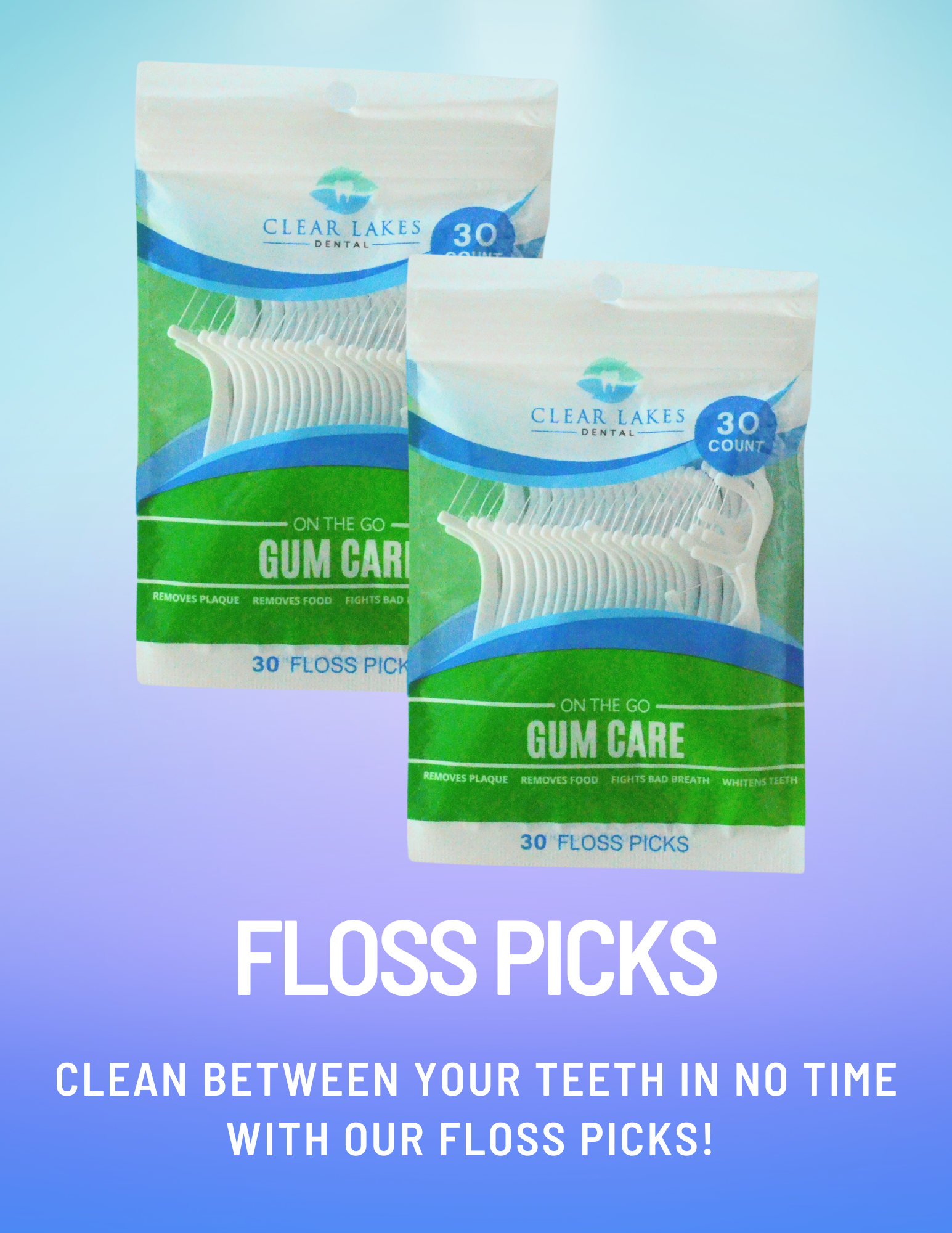 Why Choose Floss Picks Over Traditional Dental Floss?
Convenience: Floss picks are convenient and portable, ideal for on-the-go oral care. They fit easily in your pocket or bag for quick use anywhere, anytime.
Control: Floss picks offer precise control, reaching tight spaces between teeth and gums for a thorough clean, surpassing traditional floss.
Comfort: Floss picks provide a gentler option for sensitive gums and teeth, with a soft, non-irritating pick.
Efficiency: Floss picks are a faster and more efficient way to clean between teeth without the hassle of finger-wrapping or managing long strings of floss.
What is a Water Flosser?
Water Flossers create a stream of pressurized water that is directed into the mouth. The stream of water is used to effectively remove food particles, plaque, and bacteria from between teeth and gumline.
Incorporating a Water Flosser into your routine can ultimately lead to healthier teeth and gums!
Are Electric Toothbrushes better than manual toothbrushes?
Electric Toothbrushes can be more effective than manual toothbrushes! Electric Toothbrushes are effective at removing plaque and reducing the risk of gum disease. They can also be helpful for people with mobility issues or orthodontic appliances, such as braces!
I don't like flossing with normal floss. How can I take care of my gums?
Our Floss Picks are the perfect answer!
Floss picks are an alternative to traditional floss for those looking to incorporate flossing in their routine! They're disposable and convenient for on-the-go oral hygiene.
It is important to floss and Floss Picks can be the solution to get healthier gums!
Why should I use a Tongue Scraper?
Tongue Scrapers remove bacteria and debris from the deeper crevices of the tongue.
In addition to other Hygiene Essentials, using a Tongue Scraper will work to eliminate bacteria in your mouth. They will leave you feeling fresh & clean!